When:
November 13, 2016 – November 19, 2016
all-day
2016-11-13T00:00:00-05:00
2016-11-20T00:00:00-05:00
Contact:
Brittany Huffman
412-322-8321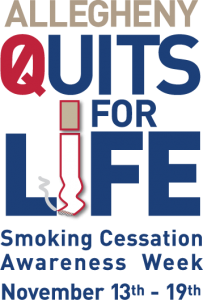 Smoking Cessation Awareness Week November 13-19, 2016
A week to raise awareness about cessation resources available to Allegheny County residents. Interested in becoming a partner organization? Contact Brittany Huffman at Tobacco Free Allegheny or Hannah Hardy at Allegheny County Health Department.
How can you help people quit?
Make a phone call!
Call the PA Free Quitline at 1-800-QUIT-NOW (1-800-784-8669). You get five FREE counseling phone calls and the possibility of FREE medication (the patch, the gum, or the lozenge).
Talk to someone!
Talk your doctor or healthcare professional about how they can help you quit.
Use the Web!
There's lots of websites out there to help people quit smoking, including:
PA Quit Logix
Tell your story!
Everyone can use a little inspiration sometimes. Who did you quit for?
Use #AlleghenyQuitsforLife to share your story on Facebook, Instagram, Twitter or Youtube.