Live Well Allegheny Workplaces
A primary goal of the Live Well Allegheny campaign is to encourage programming in each of County's 130 municipalities, including our 43 local school districts as well as the 90 neighborhoods comprising the City of Pittsburgh.
Live Well Allegheny Workplace extends this opportunity, inviting local businesses and employers to make a commitment to our campaign and its goals.
There is mounting proof that businesses who adopt evidence-based practices experience reduced absenteeism and health costs, while increasing both employee productivity and job satisfaction. Together, we can foster the sharing of best practices among all Allegheny County workplaces, which can ultimately improve the health of all employees.
To achieve designation as a Live Well Workplace, a business must first indicate its intent to work with Allegheny County to accomplish the goals of the campaign. Complete details on how to become a Live Well Workplace are listed on the Gain Live Well Status page.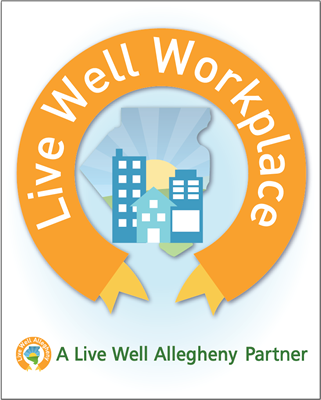 Look for the Live Well Workplace seal
Live Well Workplaces will be supplied with materials to show their involvement with the campaign — and to let their employees know that their personal wellness is a top priority!
Meet businesses that have joined the Live Well Allegheny Campaign!